STRONG PRINCIPLES RUN THROUGH EVERY CO-OP LINE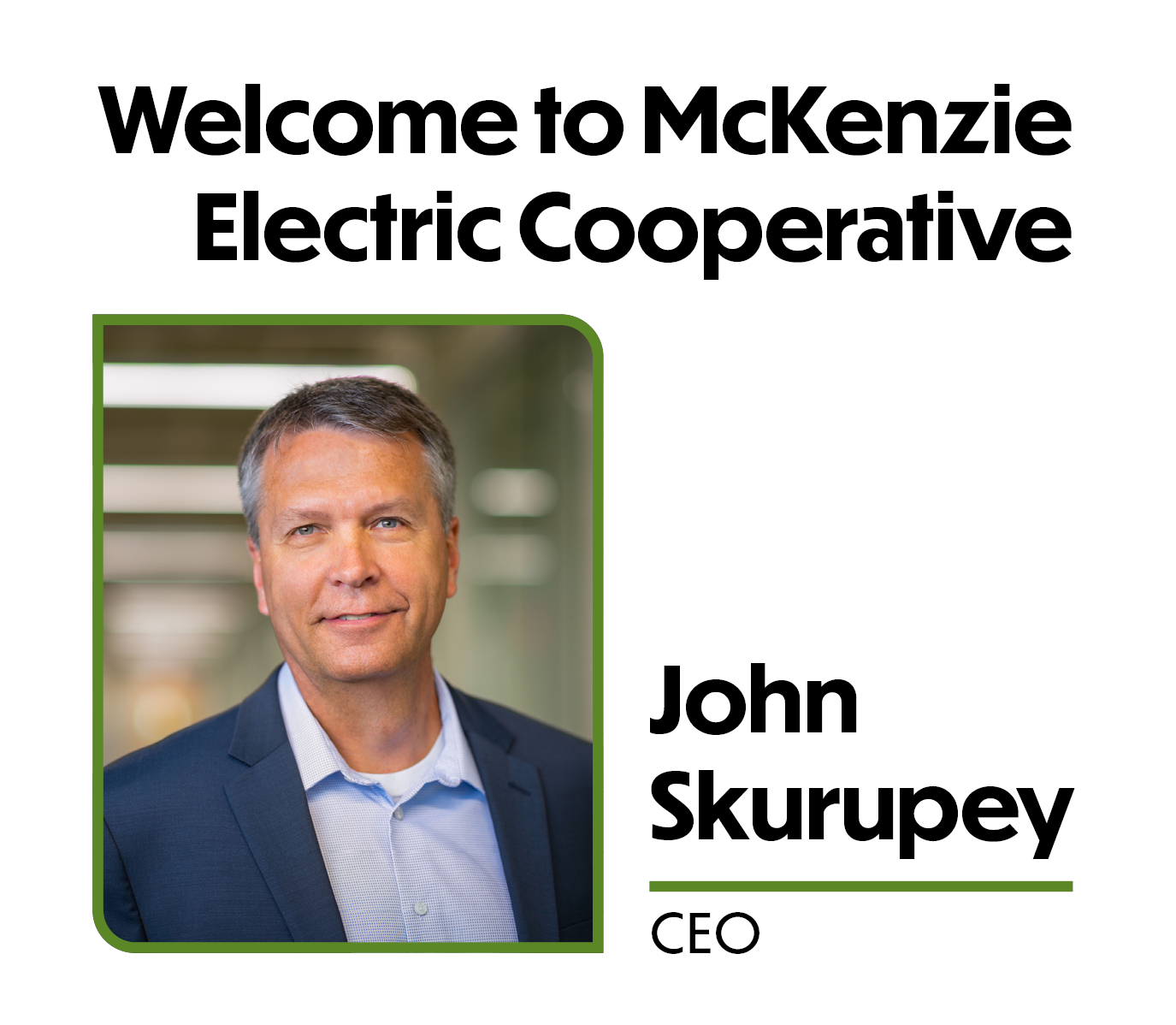 I hope you find our website both useful and informative. MEC's Member Services Coordinator, Andrew Spratta (aspratta@mckenzieelectric.com), maintains this site, as well as our other social media and printed communications outlets. Should you have any questions or concerns, suggestions for content, information or stories that you would like to see, please contact Andrew and he will be sure to look into your request.
If you're not familiar with a cooperative, I like to think of them as an I Owe Me. The other utility provider in our area is an Investor Owned Utility, or IOU. An IOU takes their profits and returns those profits to the investors of the company. A cooperative, or an I Owe Me, takes the profits (margins) and allocates them back to the member that paid them. After a period of time, deemed appropriate by your Board of Directors, those profits (margins) are paid back to you, the member-owner.
Make no mistake, MEC may be a not-for-profit, but we operate like a company and, in my opinion, as good as many for-profit utilities. MEC differs from an IOU in that what we sell is service. We focus on providing safe, reliable, low cost power for our member-owners. Having a member focused mindset brings with it an inherent drive to operate at the most efficient, lowest possible cost, because we're trying to keep our owners costs down. Our goal is to be as efficient as possible.
In 2018 MEC's membership enjoyed an Annual System Availability Index (ASAI) of 99.9577, which means the average MEC member had consistent, uninterrupted power for 99.96% of the calendar year. Our 2019 ASAI was again 99.96% and, as of this writing, through September 2020 the ASAI is at 99.958%. As you can see, we are consistent in providing a quality product. You won't see a vague tag line from MEC; we provide a quality service to our membership and we're proud to prove it!
A big part of MEC's reliability record is the design of your power delivery system that considers reliability and redundancy to the highest practical extent. Whenever possible, we like to see substations being served by multiple transmission lines, so if one line goes down, another will keep your lights on. We do the same on the distribution side where we try to design main substation feeders to connect to neighboring substation feeders such that if one feed goes down, we are able to restore power to the majority of the membership using an alternate feed. You see, it's all about the member here at MEC.
Quality service doesn't happen without a dedicated and committed workforce. I've said it time and time again, we run lean here at MEC, but not so lean that we sacrifice service. The employees who work at MEC do so with conviction – to us, service is personal, and we take pride in working for the membership making every decision with your best interest in mind. Your employees do their best to meet or exceed these expectations with the goal of a positive member experience, no matter the situation.
I hope MEC's membership continues to communicate and provide feedback on how you believe your cooperative is operating and what you believe we should be doing differently. Our office can be reached during regular working hours, and you can also contact your local director.
Thank you for being a member.
John Skurupey, CEO
Mission Statement

- Mission Statement -
McKenzie Electric Cooperative is dedicated to improving the quality of life of its member owners, while supporting the communities in which we operate, by offering safe, reliable, and affordable electricity.
Vision Statement

- Vision Statement -
With a cooperative culture that is adaptable to change, and committed to our corporate values, McKenzie Electric strives to demonstrate the cooperative difference for its members and provide a better future for the families within our communities.
Corporate Values

- Corporate Values -
Commitment to Members: We exist to serve the membership and our responsibility is to provide the highest quality service at the lowest possible cost.

Safety:  We believe safety is of great importance to the operation and delivery of electric service to the membership.

Integrity: We are committed to being honest and respectful and endeavor to maintain a culture of trust.

Stewardship: We believe through fiscal responsibility, personal accountability and continuous improvement, we strive to maintain a sustainable cooperative for the membership of today and future generations.