October is Co-Op Month. To celebrate, we're giving away pumpkins to current and new SmartHub users and hosting a virtual pumpkin carving contest!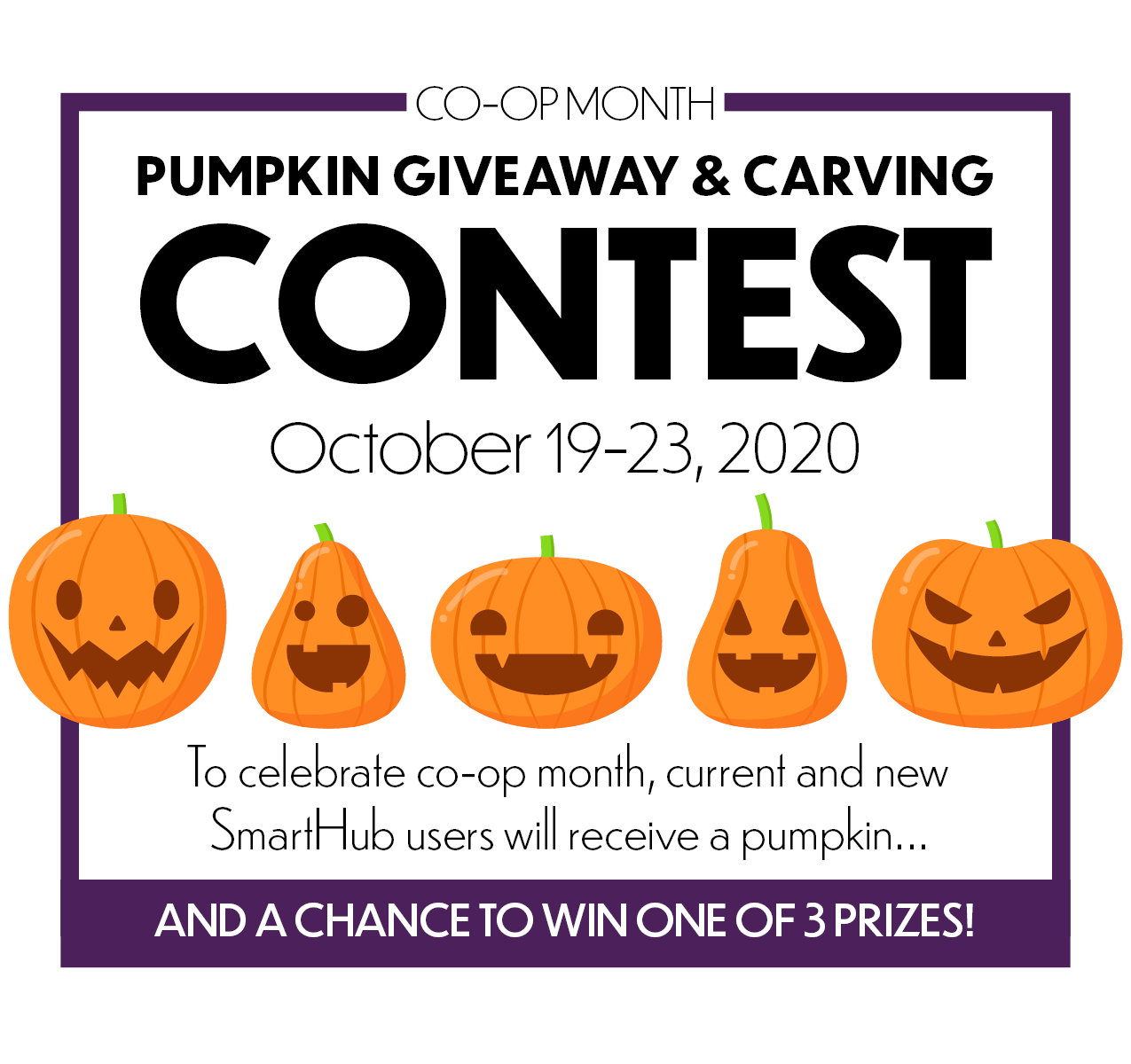 What is SmartHub?
SmartHub is a FREE app with all kinds of tools to make viewing and paying your bill a breeze. In the app, you can monitor your usage, compare your current energy consumption to previous years, and report an outage all from your smartphone or mobile device! All you need to get started is a valid email address, your account number, and the last name of the primary account holder or business name. REGISTER FOR SMARTHUB
How do I claim my pumpkin?
We will be giving away 1 pumpkin per member account to current and new members who have signed up for SmartHub. During the week of October 19th - 23rd, members can drive through our parking lot in Watford City on Monday, Wednesday, and Friday and our Killdeer location on Tuesday and Thursday to claim their pumpkin. We will be giving away pumpkins from 10 a.m. – 12 p.m and 2 – 4 p.m. This will be a drive-thru event where members will stay in their vehicles, check in with a member services representative, and be on their way as a SmartHub user and recipient of a FREE pumpkin!
Pumpkin carving contest?
Now that you have your pumpkin, you can participate in the carving contest to win one of 3 prizes valued at $50 apiece! Winners will be chosen from these categories:
Scariest pumpkin

Electric themed

Funniest pumpkin 
After you have carved your pumpkin, keep an eye out for our Facebook post where you can upload a picture of your creation and check out what your fellow members have created. You never know what kinds of inspiration you might find! Winners from each category will be chosen on October 26th, which just so happens to be pumpkin day! You do not need to receive a pumpkin from us to enter, this contest is open to all McKenzie Electric members.
Questions on picking up your pumpkin or registering?
If you have any questions or are worried you can't make it to the drive-thru to claim your pumpkin, give Andrew, MEC Member Services Coordinator, a call at 701-444-6723. We hope to see you there!