Educating Area Students - T4 2022
Tools, trades, torque and technology. Four words that were commonly spoken throughout the two-day event in April held at the Rough Rider Center in Watford City, N.D. T4, held in conjunction with McKenzie County Skills Initiative, North Dakota Petroleum Foundation, and the Lignite Energy Council, hosted over 1400 students as they made their way to demonstrations and hands-on activities put together by various organizations based in northwest North Dakota. Among them, McKenzie Electric Cooperative (MEC) had the pleasure of teaching area students about the careers you might find in the electric utility industry and what it takes to be a lineworker.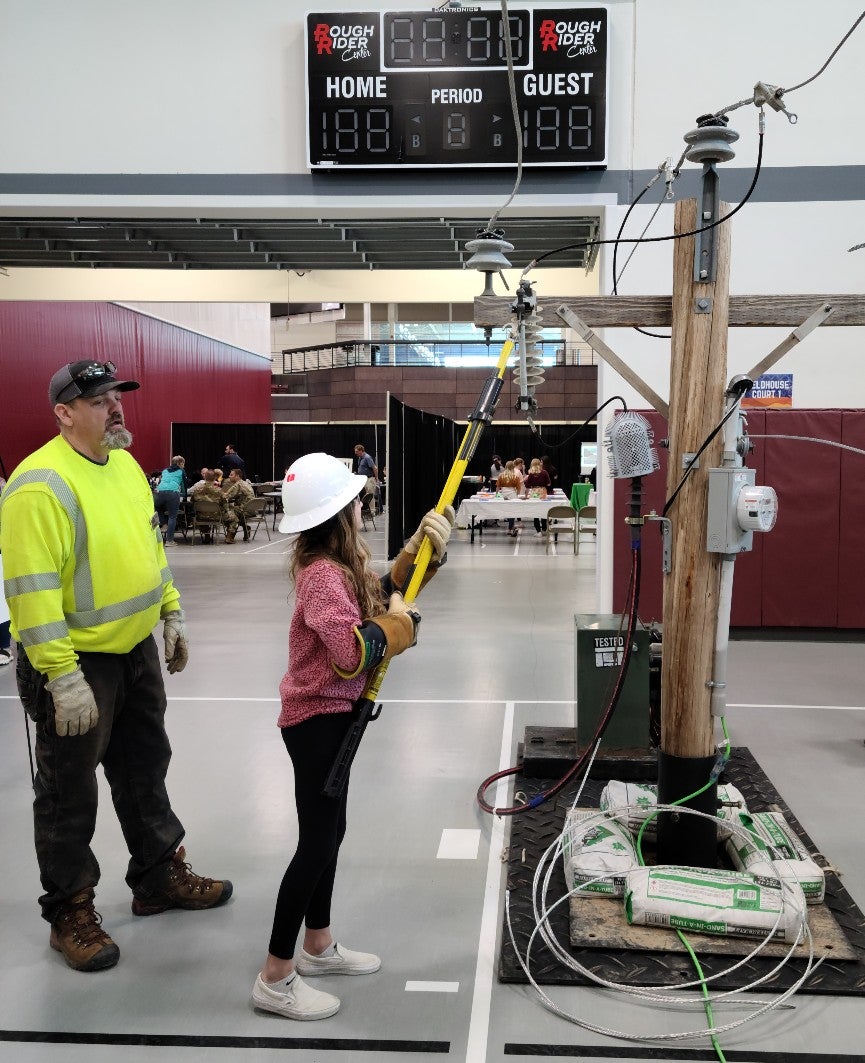 Oftentimes, high school students are undecided on which route they will take to a successful career after graduation. The goal of this event was to shed light on options that are sometimes overshadowed when compared to the standard four-year college degree and hopefully open a new world of possibilities to our future workforce.
Supporting nearly 612,000 jobs throughout the U.S. as reported in The Economic Impact of America's Electric Cooperatives (Nystrom et al. 2019), electric co-ops offer a wide range of career options ranging from office staff to lineworkers. While some positions require a degree, specifically in the accounting and engineering departments, line school is generally a year's worth of schooling with the option of an additional year in which students can receive their associate's degree. The Job Service North Dakota Labor Market Information Center posts the average wage for line installers in North Dakota is $79,590, and if that isn't enticing enough, MEC lineworkers Nick Shattuck and Brad Hueth demonstrated what a typical day as a lineworker consists of and how rewarding the trade can be.
"Who likes to climb trees?" was an opening line Nick used as students gathered around a table lined with an array of bolt cutters, crimpers, and personal protection equipment.
"If you raised your hand," Shattuck said, "linework is the job for you!"
Climbing utility poles 30-to-80 feet in the air during a winter storm may sound grueling but restoring power to homes during those storms is one of the more rewarding aspects of linework Nick and Brad explained to students. While climbing, lineworkers carry tools, gear, and safety equipment to make sure the job gets done correctly. To demonstrate the climb, Brad strapped on his climbers, took his guards off his gaffs, which are the sharp steel spikes that allow him to climb, looped his safety arrester around the pole to protect him from slipping and falling, and began the ascent. The demonstration setup consisted of roughly eight-foot poles compared to the standard 30-to-80-foot poles in MEC's system. Through the demonstration, students were able to see how much technology has improved the safety of climbing and how it's made the job much easier from the early days of the cooperative over 77 years ago.
While every lineworker needs to know how to climb a pole, bucket trucks are typically the workhorse for line work. On display at T4 was a truck used by MEC linecrews that can extend its lift and safely carry personnel and all the tools a lineworker would need to complete a job. Compared to the old ladder trucks which consisted of a flatbed pickup and a long extension ladder, students agreed that they would much rather operate a new bucket truck.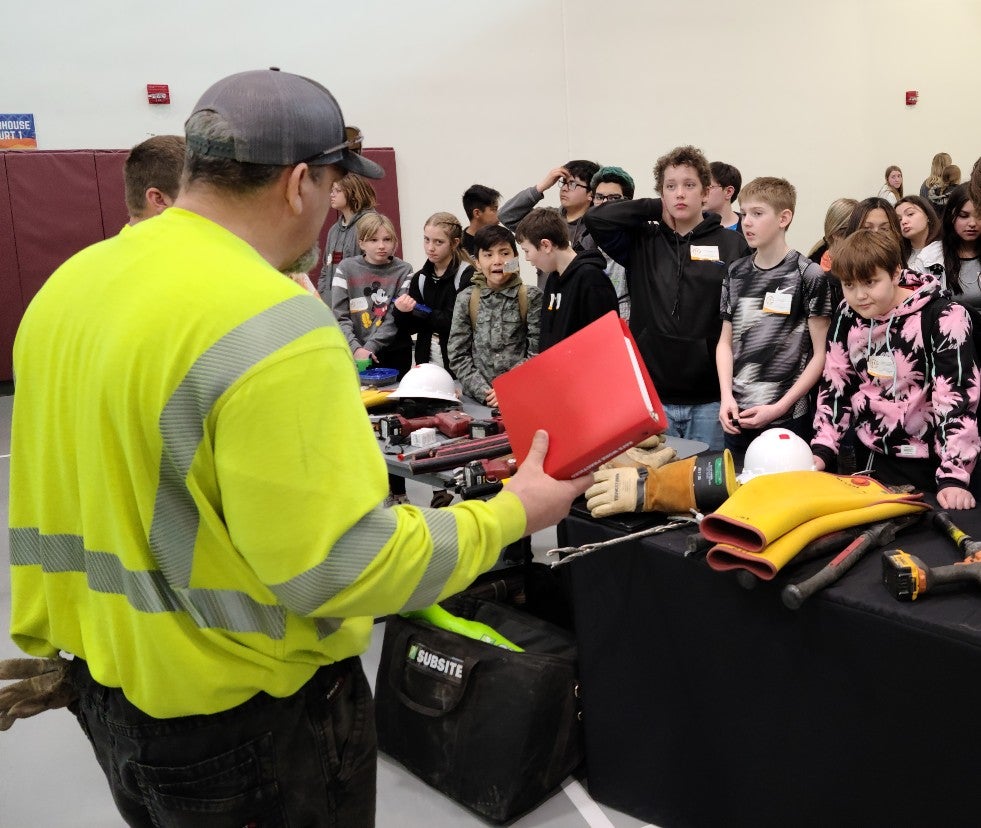 As seen both in the winter, spring, and summer months, snowstorms with damaging ice and snow roll through MEC's service area and can result in outages due to damaged equipment, lightning strikes or high, damaging winds. If a line is damaged or struck by lightning, a lightning arrester may blow and possibly a fuse, both of which protect the transformer and electrical components of a resident's house from receiving a large jolt of power. The question, "Who likes fireworks?" snagged the attention of the students surrounding the display as Nick used a ground snap to demonstrate the noise you might hear as a fuse blows. In the past, crews would have to drive to the area of a reported outage to find the issue. Luckily for MEC, and its member-owners, we have technology that allows us to remotely view the outage and dispatch crews to a specific location. "Our Outage Management System (OMS) predicts what breakers or fuses might be open based on the outage calls we receive." Explains System Planning and Reliability Manager Zane Frick. Frick also explained that in case where members don't call to report an outage, "MEC also has the ability to ping meters on our system which will let us know if a meter has power without having to send trucks to their location."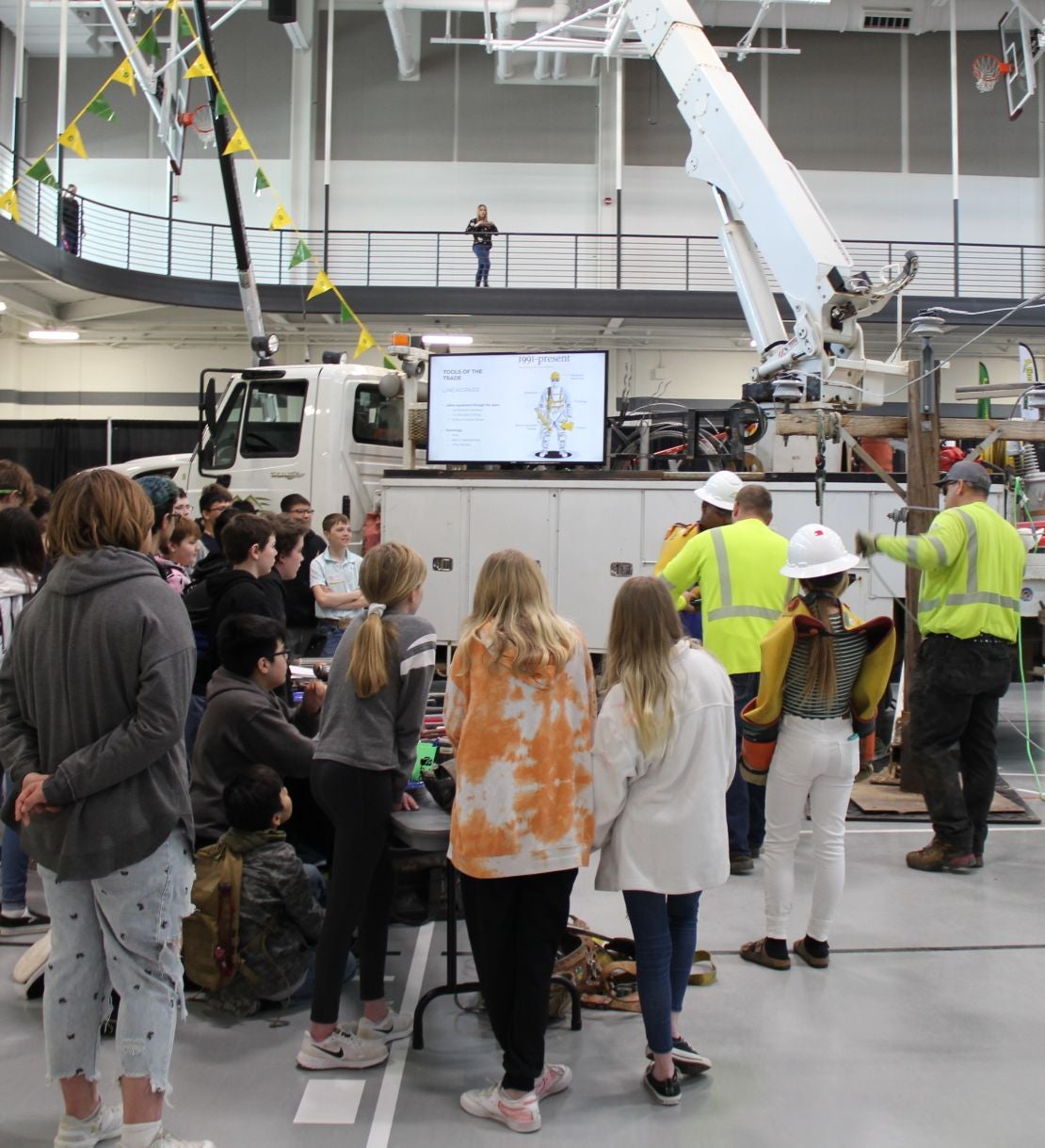 With constant progression in tools and technology, the electric utility industry is eager to expand its ranks with young adults like the ones who attended T4. As the current workforce nears retirement, now more than ever trades across the U.S. are investing more into education and recruitment. If you know of someone who isn't scared to climb trees, loves the outdoors, and would prefer an ever-changing environment, give us a call! For a full list of current job openings, please visit the career page on our website. MEC is hiring for various positions and would love to hear from you.