Livestock Judging Teaches Life Skills
By Jessie Veeder Scofield
Decision making. Responsibility. Time management. Focus. Relationship building. Communication. Camaraderie. These are just a few key words used to describe the skills 4-H kids put to use and develop when they participate in livestock judging.
And this year McKenzie County gets a chance to host over 200 students, at least two teams from each county in North Dakota, and their coaches and as the host of the State 4-H Livestock Judging Competition this month.
But what exactly is livestock judging and how does it help students build these valuable skills. McKenzie County Extension Agent and Livestock Judging Coach Devan Leo explains: "Livestock judging, in the Market Class, is an observation of a group of animals in an effort to pick the animal that is going to potentially bring the most product to the rail," Leo says. "These kids are looking at these animals while they are alive and deciding which animal is the top animal in the pen and will bring the most product to the shelf."
Or, in other words, the most meat.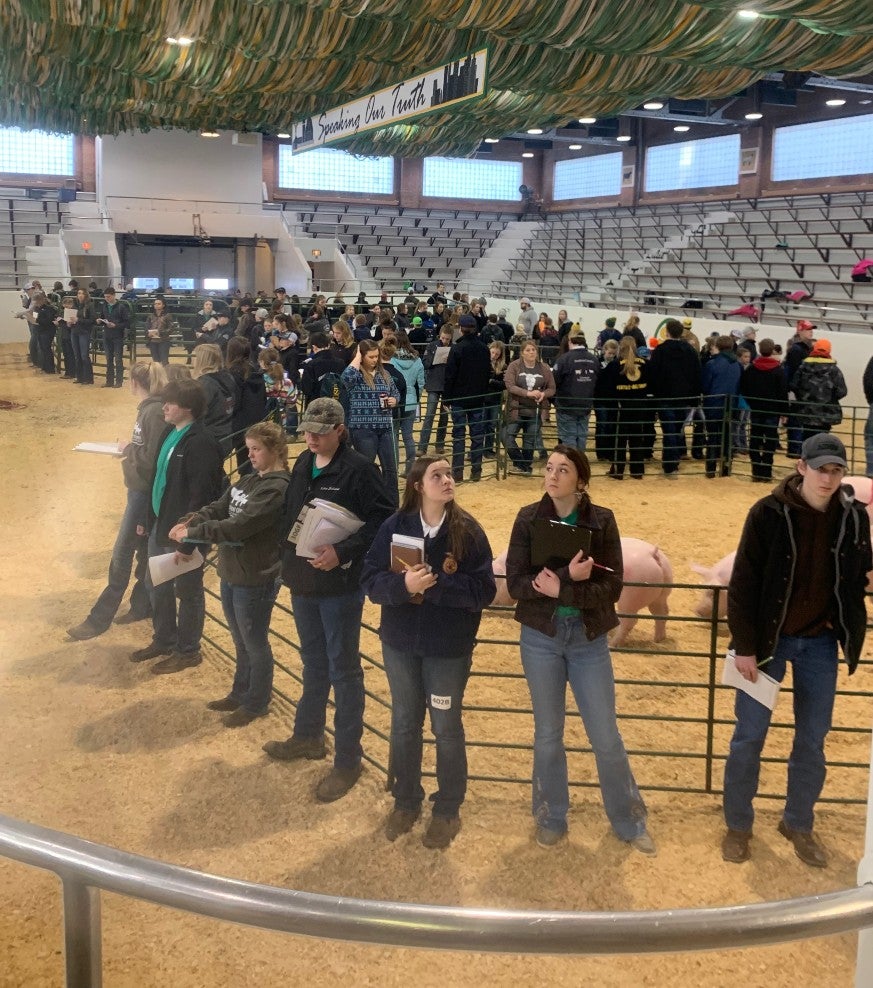 "In the breeding aspect of judging, they're looking for the animal that is going to create those kinds of animals. So, it basically teaches them skills in observation and detail orientation," explains Leo. "And also, once they give their reasons to a Reasons Judge, it teaches them communication skills. They have to describe exactly what they saw and why they thought that animal was fit to be on top. And also, why they put the animal on the bottom."
Helping 4-Hers practice these skills so that they can relay information and their argument successfully to a judge is what Keene area rancher and former 4-H Livestock Judge participant Michelle (Signalness) Schoenwald is working on with students on the McKenzie County Livestock Judging team.
"Right now, we're focusing on trying to make the connection between terminology and what they are trying to describe," says Schoenwald, who is the parent of Coty (11) and aunt of Gwen Signalness, two of the four members of the only McKenzie County Livestock Judging team this year, made up entirely of members of the Keene Lucky Leaf 4-H club. The team began their season in December and participated in additional judging competitions before the state event in Watford City.
And while the Junior team is young, they are working on setting themselves up with a lifetime of knowledge of the farm to table process. With the mild temperatures this winter, they've been able to get out in the pens to practice.
"Getting to know where your food comes from is so important," says Schoenwald. "And understanding how the animals are being raised, and the parts of the carcass and the cut sheet makes you a more informed consumer."
And Leo, who serves as one of the team's coaches, agrees.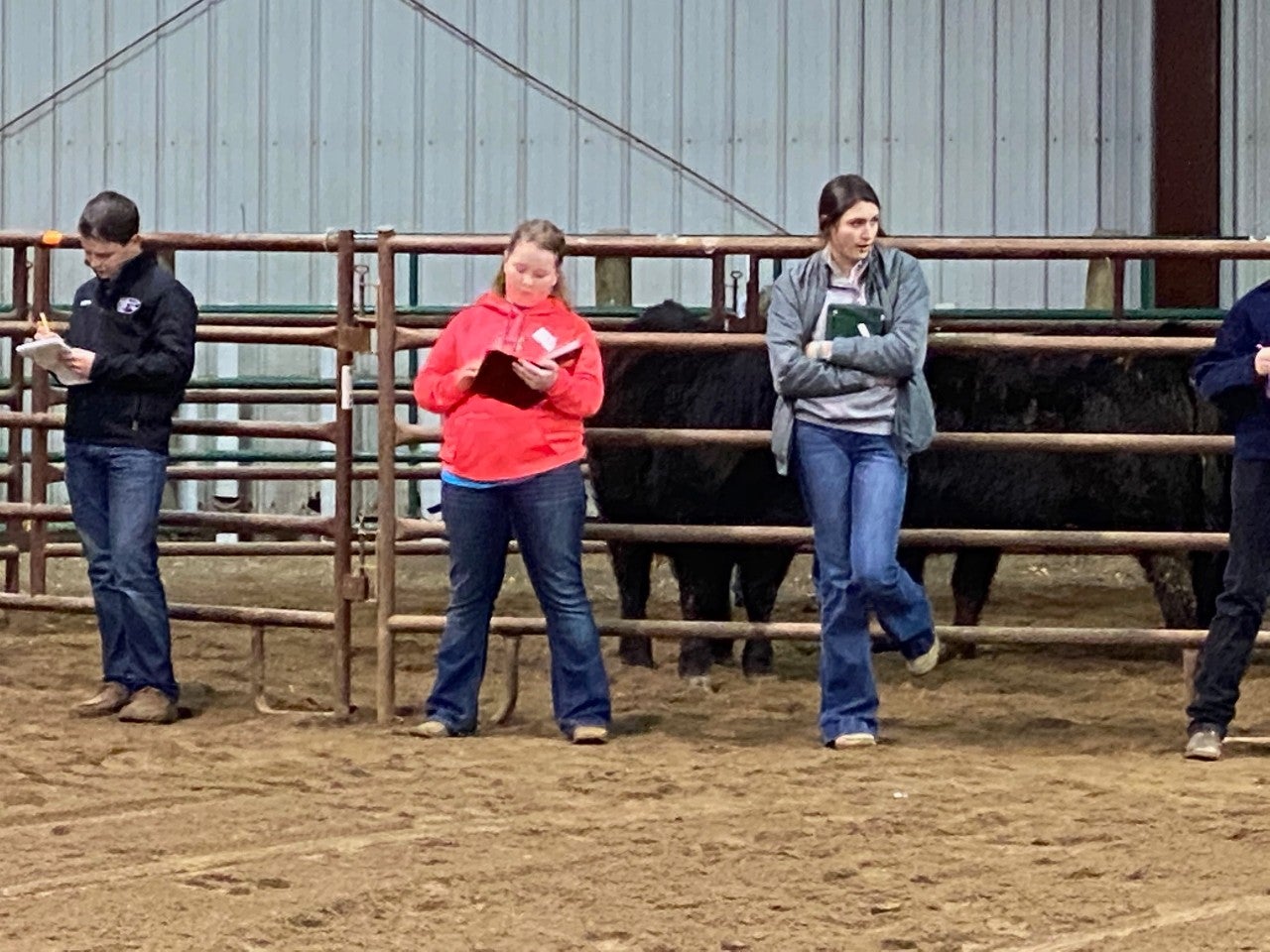 "Farmers and ranchers who raise livestock, they have a selection process, and even though that's an informal process, it is the same process," she says. "The animals that come in for the livestock judging competition are well fed. They're shiny, they're pretty, and they're happy and the kids get to see that. And I think it's very important, especially for kids not involved in agriculture, to see that. It can be a real eye opener for them."
Oh, and that time management part? 4-Hers are challenged to get a handle on it as they are only given twelve minutes to evaluate each class. They can't go back.
"They have to focus. Get through the class, get it rated and then move on to the next one. And then at the end they have to recall all of the thoughts that they had at that class and basically make a two-minute speech," Leo explains.
But no matter how many practices and judging competitions the 4-Her has under his or her hat, sometimes the pressure of the process, in livestock judging and in life, gets the best of them. At least this was the case for McKenzie County resident and former National 4-H Livestock Judging competitor Nikki (Thompson) Darrington. When her judging team won first place at the state contest, they got the opportunity to compete at the national level in Louisville, KY. Darrington, who had spent all week listening to people talk in a southern accent, found herself standing in the room delivering her set of reasons on an angus bull in her own version of a southern accent.
"I started talking and I knew I couldn't quit, so I had to finish that set of reasons in an accent," she laughed. "I got the highest score on those reasons, so maybe I should have done them all like that!"
Darrington's three children Gracyn (10) Gavyn (8) and Graham (5) are all involved in 4-H and her oldest daughter participates in livestock judging.
"My kids enjoy showing animals at the fair and love doing the interviews with the judges," says Darrington who credits the nine years she spent participating in livestock judging in developing her gift of gab. And now her kids are doing the same. "They are learning how to talk to people, give interviews, create things, and be critical thinkers. I love 4-H and recommend it to anyone! Livestock judging is still one of my best memories."
Schoenwald agrees. "It helps the students express their opinions and make an argument for those opinions. That's an important trait in itself, it's a huge life skill.
Everyone should participate in livestock judging, if just once," she says.
Schoenwald's children have a fun advantage growing up on Michelle's family farm and ranch, where between her and her two brothers' families, they get practice judging sheep, hogs and beef cattle.
And while 4-Hers from McKenzie County won't have to travel far to participate in the state competition thanks to the generous support of local businesses, donors and organizations who helped make it possible for Watford City to host, both Schoenwald and Darrington share in the opinion that some of the best memories came from the road trips and camaraderie that developed when traveling to contests.
"The road trips were always fun and the best memory of all was the Valley City Winter Show," remembers Darrington. "It was such a fun time! We would stay in someone's house in town. Their basement floor was filled with McKenzie county judgers!"
Schoenwald has a similar memory of staying in a host family's basement during the Valley City Winter Show. Being more of a tomboy herself, the other girls bringing separate suitcases just to hold all their different colored boots stands out as a funny memory of the time.
Schoenwald will be providing the hogs for the state competition this year and will help where she's needed to ensure the event runs smoothly. Both women are happy and proud to host state livestock judgers from across the state on their home turf, knowing that their good memories, important life lessons and potentially the news they won a trip to nationals will have been made in McKenzie County.