Out of the dark: Memories of when the prairie lit up
By Jessie Veeder Scofield
"We left in the dark and returned in the light!"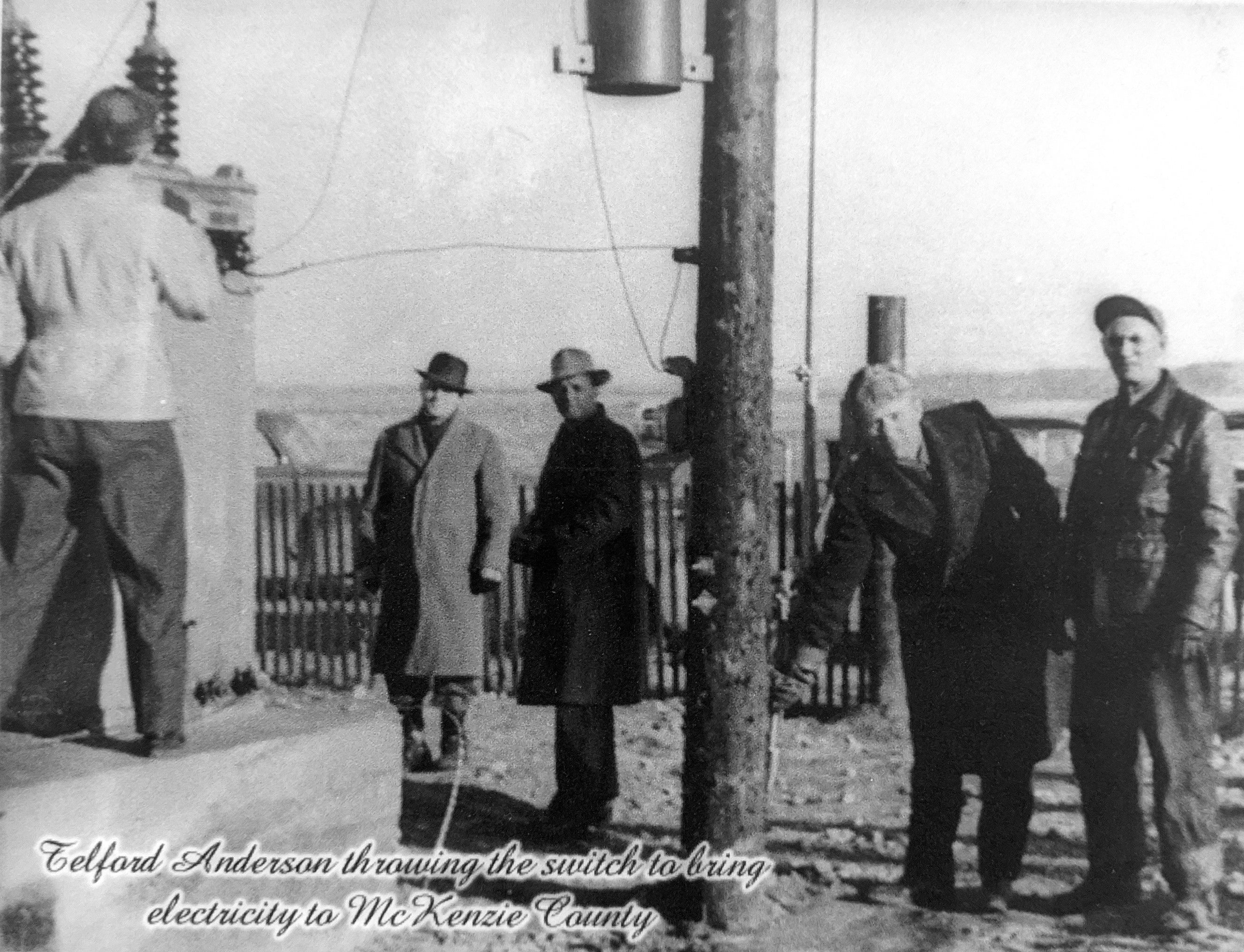 This is the memory that Cleo Kirkland will always hold of driving over the hill after a honeymoon road trip to California and seeing the newly installed yard lights illuminating the countryside of her rural community. 
John and Cleo were married in December of 1950 and their return in early March found life in rural McKenzie County fully changed.
"It really was a site," exclaimed Kirkland. "We were so excited. We drove by to see all the yard lights on and said, 'now who's place is that? Who's is that?'"
The couple was pulling a new travel trailer that would serve as their house for nearly two years. They picked it up in Billings on their way home to John's uncles' farmstead, the Ben and Elmer Risser place, 20 miles southeast of Watford City. 
"It was what you would call a camper these days. It was elaborate to us," remembers Kirkland. "It came all equipped. It had a little refrigerator. It was all wired, we just had to plug it in."
It's a sweet memory, the image of a young newlywed couple not only on the verge of a new life together but standing on the edge of a new and modern time for their rural community.
The first thing they bought? A deep freeze they kept down at Ben and Elmer's house.
"Of course, it wouldn't fit in the trailer, but we thought it was the most wonderful thing," exclaimed Kirkland.
Before electricity came to the countryside, rural families found innovative ways to make life a little easier. Without a modern convenience like a deep freeze, residents canned vegetables as well as meat.
Raymond Blegen, who farms and ranches two and a half miles southeast of Keene, recalls using a windmill before Rural Electric Cooperative power.
"So we did have lights. But we had very little power of any kind," recalls Blegen.
Especially when the wind didn't blow.
"We never did have a fridge before power, but we did have a small deep freeze that we ran on 32 volt, but we didn't have a lot of power, so a lot of times it would sit empty."
Kirkland remembers families with iceboxes that stood upright like refrigerators. Residents might put straw over a piece of ice in a low spot on their place in early spring to insulate it and then put that ice in the icebox to keep it cool. The ice could last well into the summer that way.
"Ben and Elmer had a fridge that ran by propane and a light plant that ran lights for the house," Kirkland reminisces.
And if you wanted to butcher and store your own beef or pork?
"Before REC you had to use the locker plant in town. You could rent boxes to store stuff in," said Blegen. "Otherwise you just had to butcher chickens when you needed one. When you butchered pigs, you would make salt pork out of it. We canned a lot of meat."
Both Kirkland and Blegen agree that the electric refrigerator and freezer was a game changer for domestic life. The other thing they both agree on?
The electric washing machine.
 "I think that was the first thing most every household bought," laughs Cleo.

And it makes sense when she describes the process of washing clothes before electricity.
"My mom had a motorized washing machine with a foot lever. You had to pound on the pedal until it started," remembers Cleo. "Oh, electricity made many things easier."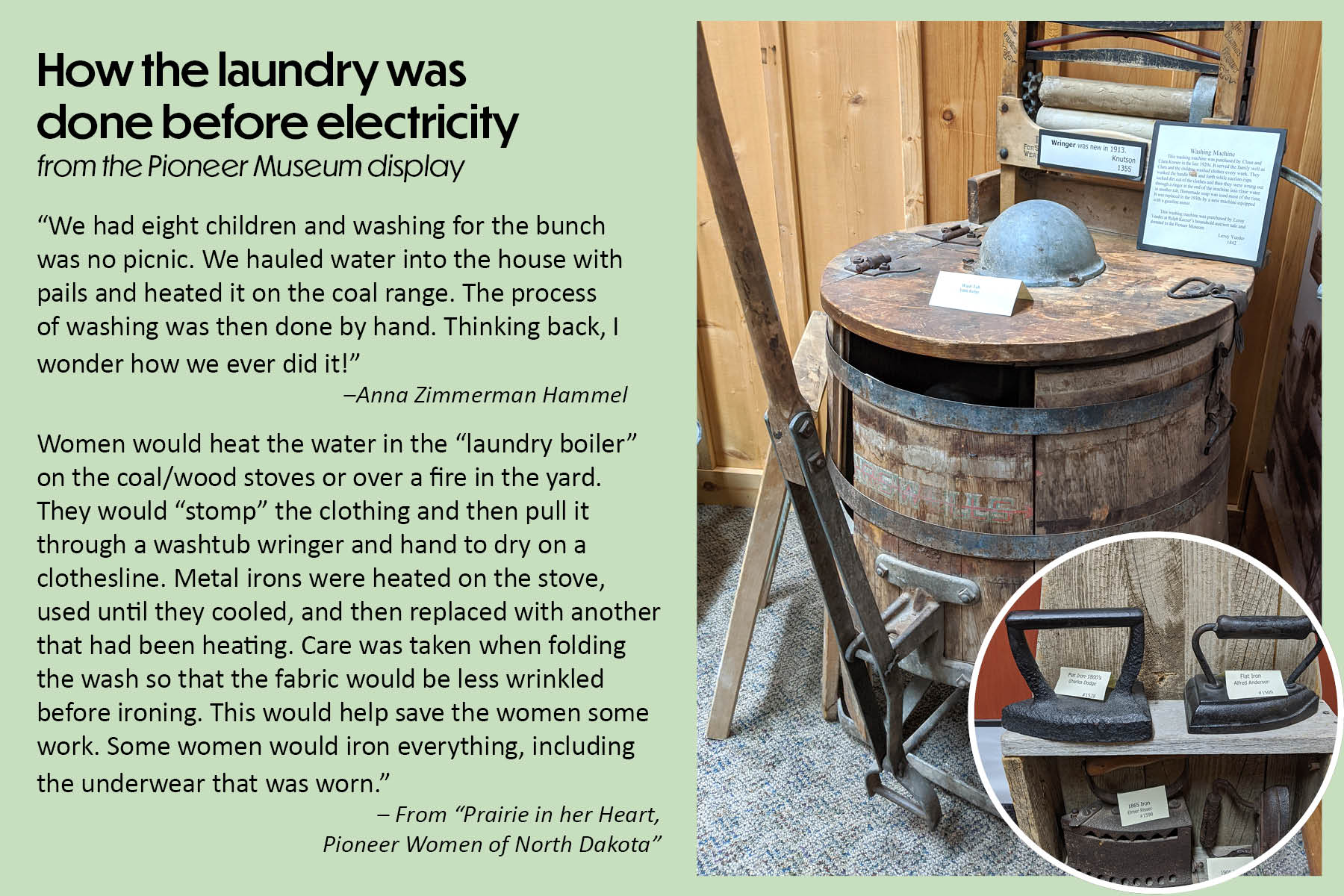 And illuminated.
Cleo recalls when her mother was first hooked up to power in the Blue Buttes area, when the one light bulb hanging in the middle of the ceiling lit up, she exclaimed, "Oh my goodness, I have to wash the ceiling!"
Electricity a hand with farm work.
Although rural electricity made a huge impact on household chores, Blegen recalls the biggest improvements to his workload were down in the barnyard, including the lights in the barn and an electric water pump to water the cows.
"We had to pump water by hand if the wind didn't blow. And of course, if the water tank was empty and the cows came to drink you could just never catch up. You pumped and pumped and pumped," laughs Blegen.
And when you wanted water in the house, you carried it there in a bucket.
"The kitchen coal stove had a reservoir on it, so you had warm water to wash in," said Blegen. "It's hard now to remember how you did without."
The electric dream
It was President Roosevelt's executive order creating the Rural Electrification Administration in 1935 and the Rural Electrification Act that was passed in 1936 that helped lead the way for electricity in rural McKenzie County. Over coffee at the neighbors' and around the stores and elevators, forward thinking men in McKenzie County began to discuss the possibilities of bringing power to their own rural communities. On February 9, 1945, the incorporators of McKenzie Electric Cooperative filed the notarized Articles of Incorporation. This was the legal beginning or the co-op, and although it's hard to trace, the work had begun long before.
Blegen recalls getting together with his neighbors and discussing the plan for power. Just like the history reads, he paid $5 to save his spot on the line, a spot he held for four or five years before receiving electricity.
According to the McKenzie County Farmer, the red-letter day came on December 21, 1947. At 5:45 pm, the board of directors and manager, dressed for the severe cold, went to a temporary substation north of Alexander and threw the switch which completed the circuit for the first rural electrical power to flow through the lines and into the homes waiting, The first farm to be energized was that of Don Childs.
The co-op had now been established, lighting up the hills and prairies of McKenzie County and taking its residents out of the dark and into the light, changing their lives forever.
For more information and a unique display on the establishment of the Rural Electric Cooperative in McKenzie County, visit the Pioneer Museum of McKenzie County in the Visitor's Center on Main Street Watford City.