Warm up with a rustic twist to a time-honored favorite
By Jessie Veeder Scofield
Everybody loves to eat. Especially during this season of the deep chill, when we all want to give in to those animal instincts telling us to stock up and hibernate.
Yes, everyone loves food. Even those of us who have been known to use our ovens for storage have a dish we try to re-create from our childhood. Like grandmother's oatmeal cookies, aunt's pickles, mother's secret homemade mac and cheese that turned out was just Velveeta with a little milk over fancy noodles.
And out here, where the coyotes howl outside our window, the grocery store is a good thirty miles away and delivery is not an option (at least until they employ drones,) we count on those familiar favorite recipes to bring us together around a dinner table, in one room, under the vast prairie sky.
One of my favorite qualities about my husband is the fact that his heritage shows up in a very carb loaded, heavy cream-based, way. The man has honed his cooking skills alongside a woman who honed her skills alongside a woman who put heart and flour and some of that wholesome German-Russian discipline into her food.
And so my husband has recipes tucked up under his hat that he has sharpened and put his own, rugged twist on. They come out of him in this lovely, delicious, buttery and carbohydrate loaded food that usually puts me into couch-bound recovery. We can all thank his momma for this.
And you can thank me—and number one skill—persuasion—for getting him to agree to let me follow him around our kitchen and document his every move for his take on a time honored classic in these parts. Knoephola soup.
Spoiler Alert! He adds chicken…and a vegetable that isn't white. And so I'm not so sure, under the rules of heritage food, what we are technically aloud to call it now, and so I will just call it a delicious version of your favorite chicken noodle soup, only with cream and small, delicious dumplings. Enjoy!
And before we go any further, my husband wants you to know that this doesn't have to be pretty.  And it sure isn't going to be quick. Soup is about the process, so hang in for the long haul and don't get hung up on meticulous measuring, just lean in to the pinches, dashes and shakes because the only tablespoon you need is your taste test spoon. Use it often for best results.
Which leads him to the #1 rule of soup making. You can always add to it, but you can't take it back.
Husband's Homemade Knoephla Soup with Chicken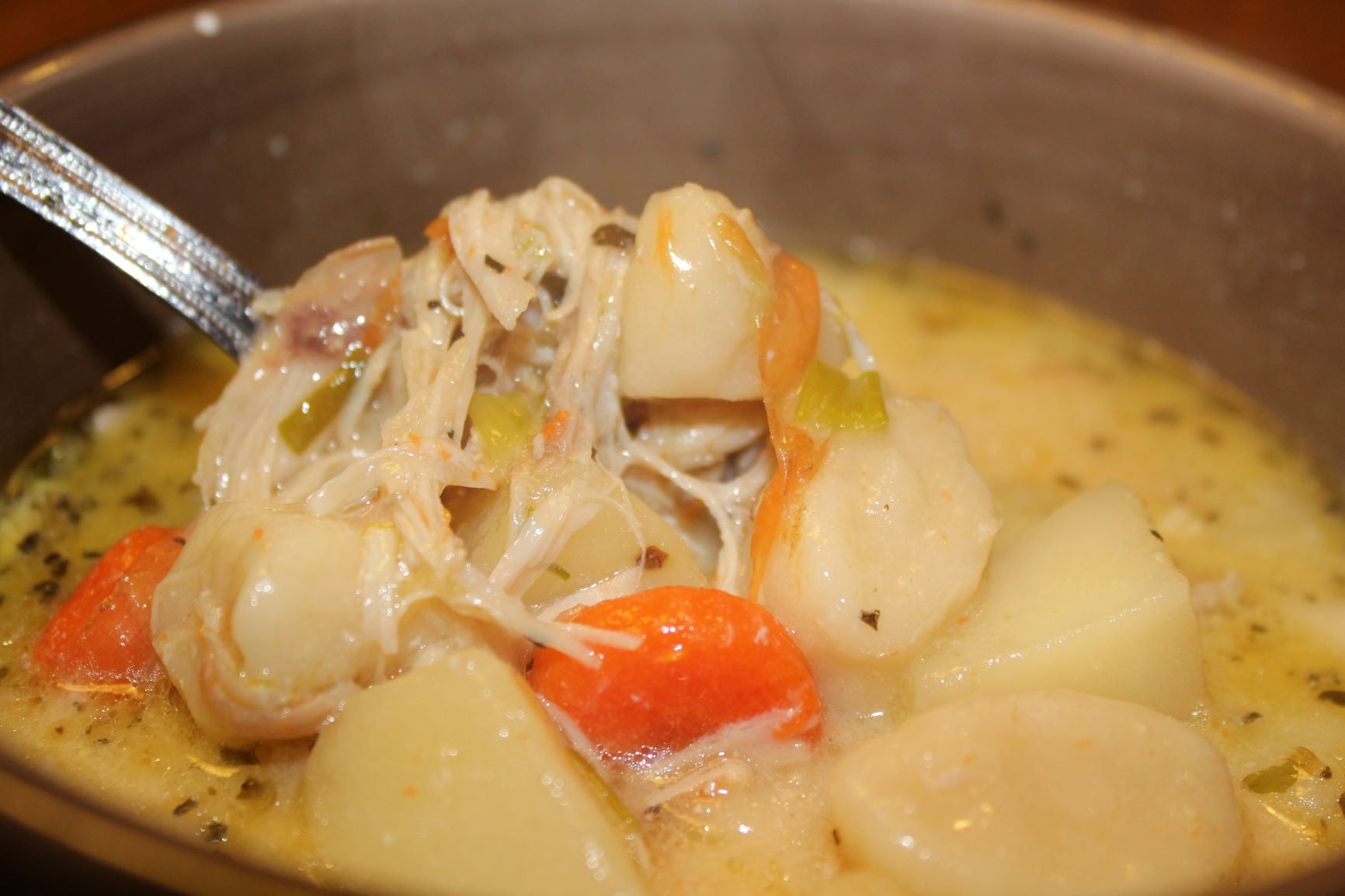 Ingredients:
Six chicken drumsticks or three chicken leg quarters, thawed
1 egg
1 cup milk
1/2 stick of butter
4 medium potatoes
1 small onion, diced
4 large carrots
4 sticks of celery
Cream
Chicken Base or Bouillon Cubes
2 Bay leaves
Rosemary
Basil
Parsley
Celery Salt
Thyme
Minced garlic
Salt
Step 1: The Broth
Put as much water into the pot as you want soup broth.  (Too much is better than not enough. My husband's logic in the kitchen and in life.)
Place chicken and bay leaves into the water
Add a two fingered pinch of rosemary and a sprinkle of salt
Bring to a gentle boil
Continue boiling until the chicken is cooked through–approximately 1/2 hour, but the longer the better, as the point is to cook the flavor out of the chicken to create a tasty broth.
Once the chicken is cooked to your liking, remove it from the pot and skim the excess fat off the top of the water
Season the remaining broth with:

A shake of salt
A pinch of minced garlic
A couple shakes of basil
A couple shakes of celery salt
A tiny pinch of thyme (don't overdo the thyme)
A pinch of rosemary
A generous couple shakes of parsley
2 tablespoons of chicken base, to taste (or 6 bullion cubes)
2 bay leaves
Waft the soup up to your nose to get a good whiff. Smells delicious. Add more seasoning if you wanna. Stir and savor.
Step 2: Soup contents
Remove the skin from the chicken and pull meat from the bone. Cut/shred into bite sized pieces.
Peel and dice four medium sized potatoes
Slice four large carrots
Slice four sticks of celery
Dice once small onion
Add a half a stick of butter (If you're feeling diety, you can skip it, but it sure makes it tasty)
 Add all above ingredients to the soup and continue cooking on low heat until the potatoes are tender. About 25 minutes.
In the meantime…the best part
Step 3: The knoephla
Mix one egg with a cup of milk
Add a dash of salt and stir
Sprinkle flour on your counter or table to avoid stick
Add flour (about 3 to 4 cups) to the mixture and then knead the dough on the table until it no longer sticks to your hands and the consistency reminds you of a really light play-dough
Roll the dough out into long round strips that look like small snakes (Like you're playing with your play-dough. The kids love this part)
When the potatoes are done, using a kitchen scissors, clip off about ½ inch pieces of the dough and drop into soup mix
Note: you don't have to use all of the dough, just put in as many as you like. My husband usually needs to upgrade to a bigger pot.
Cook kneophla until they float to the top of the soup mixture. About 10-15 minutes.
Step 4: The finale
When the knoephla pieces pop to the top of the mixture, take a little taste of the broth to see if it needs anything. Add seasoning to your liking.
Then, if you're feeling too skinny, add to the mix a ½ pint of cream.
Stir
Ladle into big boy sized bowls and serve with crackers and bread (because, at this time of year, the more carbs the better)
Then leave the dishes for tomorrow and tip your hat down over your face and turn in for the night. 
Happy Kneophla to ya!