Annual Meeting Notice and Information
Official Notice of Annual Meeting
The 78th annual meeting of McKenzie Electric Cooperative will be held Tuesday, June 6, 2023, at the Rough Rider Center Arena, 2209 Wolves Den Parkway in Watford City, with the following agenda:
Registration, complimentary meal, and entertainment……………………5:30 p.m.
4H clubs, Jessie Veeder-Scofield
Children's activity………………………………………………………………………………………… 5:30 p.m.
Rough Rider Center Field House
Business meeting………………………………………………………………………………………… 6:30 p.m.
Rough Rider Center Arena
Invocation
Call to order
National Anthem
Appointment of parliamentarian
Approval of minutes
Legal Update
Financial report by audit firm…………………………… Brady Martz & Assoc., P.C.
Board President's report………………………………… Clayton Monsen
Cooperative update…………………………………………… Matt Hanson
Nominating Committee Report………………………… Ariston E. Johnson, attorney
Election of directors
Service awards presentation
Operation Round Up report
Scholarship awards
Old and new business
Adjournment
Drawing for door prizes held throughout
Must be in attendance to win
McKenzie Electric Cooperative
Nominating Committee
Minutes of Meeting Held March 23, 2022
The nominating committee for McKenzie Electric Cooperative, Inc. convened by telephonic meeting on Tuesday, March 21, 2023, at 6:37 p.m. Central Time. Present were cooperative attorney Ariston E. Johnson along with nominating committee members David Brenna, Wayne Johnson, and Joel Gorrell.
The meeting was called to order by Attorney Johnson.
District 1C. It was reported that there had been only one individual indicate an interest in serving as Director for McKenzie Electric Cooperative from District 1C. Motion by David Brenna to nominate Travis Thompson as a candidate for Director from District 1C, seconded by Wayne Johnson. Motion carried unanimously.
District 2B. It was reported that there had been only one individual indicate an interest in serving as Director for McKenzie Electric Cooperative from District 2B. Motion by Wayne Johnson to nominate Clayton Monsen as a candidate for Direct from District 2B, seconded by Joel. Motion carried unanimously.
District 3A. It was reported that there had been only one individual indicate an interest in serving as Director for McKenzie Electric Cooperative from District 3A. Motion by Joel Gorrell to nominate Ray Tescher as a candidate for Direct from District 3A, seconded by David Brenna. Motion carried unanimously.
There being no further business, the meeting of the nominating committee was adjourned.
Respectfully submitted,
Ariston E. Johnson
Attorney at Law
Held at the Rough Rider Center Arena in Watford City, ND, McKenzie Electric Cooperative's 78th annual member meeting took place June 6th, 2023.
As attending members entered the event space, they were greeted with views of a mock distribution line created by McKenzie Electric line crews specifically for this year's annual meeting. This display featured 25-foot poles that bracketed the stage and 15-foot poles angled towards the crowd. While many see power lines as they drive down county roads and highways of the area, a display with all the hardware typically displayed on McKenzie Electric distribution line provided an opportunity for members to see how electricity is distributed up close and personal.
Kicking off this year's meeting, Jessie Veeder-Scofield, a Watford City area local and Nashville recording artist, entertained the crowd with live music as meals were served and guests found their seats. As a cooperative powering the Bakken and the people who call the area home, Jessie's renowned single Boomtown was the perfect prelude to the cooperative business meeting. An excellent home-cooked meal of shredded beef and cheesy potatoes, accompanied by watermelon and all the desserts you could imagine was served by local 4H Clubs while Jessie performed.
Various booths were on display throughout the meeting space to provide members with information on how distribution hardware functions. Interns with the engineering department presented and educated attendees on fuses, underground elbows and cable, and other hardware typically concealed below ground or out of the view of the public. A consistent fan favorite, the mini-distribution display used at events like T4 provided a chance for members to view the functions of McKenzie Electric's electrical hardware in a controlled, de-energized setting. This booth also displayed the gear cooperative employees use to keep them safe out in the field.
To accommodate McKenzie Electric members who have children, bouncy houses and activities were available in the Field House next to the RRC arena. Aside from an evening of bouncing around, goodie bags including plastic hard hats, lightning bolt stress relievers, stickers, and magnets were provided to attending children.
McKenzie, and the surrounding counties, are home to many Veterans who have served in the Nation's armed forces. Prior to the National Anthem performed by Jessie Veeder-Scofield, Veterans in the audience were asked to stand and be recognized for their service in protecting the country and its citizens. The business portion of the meeting followed, providing highlights of 2022 and how the cooperative navigated the various storms of the year.
"Weathering the Storm Together" was the theme of the 78th Annual Meeting and encompassed the various trials faced throughout 2022. While storms caused by weather are easy to recognize, issues such as material acquisition, inflation-related challenges, and resource adequacy can quickly become storms of their own. Board President, Clayton Monsen (District 2B – Arnegard), shared an update on how the cooperative met these storms through long-range planning and acquiring material well in advance of planned projects.
McKenzie Electric's CEO, Matt Hanson, followed Monsen's report diving into more detail on how pre-planning, and the ability to pivot resources insulated the membership from prolonged outages during storm events. Starting with the weather, Hanson highlighted two major winter events in 2022 – the April blizzard and the three weeks of frost and fog experienced in December.
The April blizzard was one of the worst winter weather conditions the cooperative has ever observed in its 78 years of operation. Freezing rain coupled with high winds and heavy snow quickly became a problem due to the weight on cooperative structures and how worsening road conditions impacted the ability of McKenzie Electric crews travelling to outage areas. Fortunately, the cooperative had material in place to remedy outages in short order. Since this storm, significant improvements have been made in how McKenzie Electric and its staff prepare and respond to these types of outages. Shortly after the April blizzard, a member-facing outage portal was released to provide members with real-time updates on outage restoration. Along with revamped internal processes and coordination between County Road crews, emergency management personnel, and communication providers, the cooperative was well prepared for the storm encountered in December.
Continuing through the theme, Hanson spoke in depth on matters such as supply chain challenges, physical and cyber security of cooperative infrastructure, and resource adequacy concerns as reported by the Southwest Power Pool. Looking to the future of the cooperative, Hanson introduced a project underway in 2023 that includes the addition of 100 megawatts of capacity in the Fort Berthold Indian Reservation area. This project will include three new substations, approximately 60 miles of transmission line, and strategic replacement of conductor to increase reliability within the project zone.
Closing the CEO report, Hanson reported on the cost of power and the breakdown of where McKenzie Electric members' dollar went. With nearly $0.90 cents of every dollar going towards power costs, this figure illustrates how the cooperative puts the member first by minimizing costs where possible without compromising the reliability of their service. Following the CEO Report, Lance Rambousek with Brady, Martz and Associates reported on the financial standing of McKenzie Electric which remained financially strong throughout 2022.
Each year, three directors are elected to their respective districts. Running unopposed, Travis Thompson (District 1C – Keene), Clayton Monsen (District 2B – Arnegard), and Ray Tescher (District 3A – Trotters/Homesteaders Gap) were reelected to their positions on the board.
As the key program harnessing the generosity of McKenzie Electric's members, the Operation Round Up report was presented by two directors of the program, Kim Neprash and Nikki Darrington. Since the adoption of Operation Round Up by cooperative membership in 1998, over $250,000 has been distributed on behalf of the membership to individuals with emergency medical costs, aid for civic and charitable organizations, equipment upgrades to schools and parks, and new and necessary equipment for ambulance and rescue departments.
Closing the meeting, service awards were presented to cooperative employees who reached work anniversary milestones. They included Lynette Hanson – 40 years; Colt Rangen – 15 years; Jim Hansen – 15 years; Zane Frick – 10 years; Dan Marmon – 5 years; and Justin Bentz – 5 years. Following service awards, 2023 scholarship and student program winners were announced.
Don't miss the opportunity to take part in the future of your cooperative, McKenzie Electric encourages every member to attend the next annual meeting. Stay tuned for the date announcement! Thank you to all the members in attendance, we look forward to seeing you next year at our 79th annual meeting!
La 78ª reunión anual de miembros de McKenzie Electric Cooperative se llevó a cabo el 6 de junio de 2023, en la arena de el Rough Rider Center en Watford City, ND.
A medida que los asistentes entraban a el evento, se encontraban con un montaje de una línea de distribución creada por el personal de McKenzie Electric exclusivamente para la Reunión Anual de este año. La instalación estaba formada por postes de 7 metros que rodeaban el escenario y postes de 7 metros en ángulo hacia el público. Aunque muchos ven las líneas eléctricas cuando conducen por las carreteras del condado y las autopistas de la zona, una exhibición con todos los equipos que habitualmente se muestran en la línea de distribución de McKenzie Electric permitió a los miembros ver de cerca y en persona cómo se distribuye la electricidad.
Para dar comienzo a la reunión de este año, Jessie Veeder-Scofield, una artista local de la zona de Watford City que ha grabado en Nashville, entretuvo a la multitud con música en vivo mientras se servía la comida y los invitados tomaban asiento. Como cooperativa que promueve electricidad en el Bakken y a las personas que viven en la zona, el famoso single de Jessie, Boomtown, fue el preludio perfecto para la reunión de la cooperativa. Una excelente comida casera de carne desmenuzada y patatas con queso, acompañada de sandía y todos los postres que puedas imaginar fue servida por le Club de 4H local mientras Jessie cantaba.
En todo el espacio de la reunión se expusieron diversos mostradores para informar a los asistentes sobre el funcionamiento de los equipos de distribución. Los estudiantes en prácticas del departamento de ingeniería presentaron e informaron a los asistentes sobre fusibles, codos y cables subterráneos y otros equipos que suelen ocultarse bajo tierra o fuera de la vista del público. Un constante favorito de los fans, la mini-exposición de distribución utilizada en eventos como el T4 proporcionó a los miembros la oportunidad de ver las funciones del equipo eléctrico de McKenzie Electric en un entorno controlado y sin tensión. Este mostrador también exhibía los equipos que utilizan los empleados de la cooperativa para mantenerse seguros en el campo.
Para los miembros de McKenzie Electric con hijos, se dispuso de casetas inflables y actividades en el pabellón situado junto al estadio del RRC. Además de una tarde de saltos, los niños asistentes recibieron bolsas de regalos con cascos de plástico, bolas antiestrés, pegatinas e imanes.
McKenzie, y los condados circundantes, son el hogar de muchos veteranos que han servido en las fuerzas armadas de la nación. Antes del Himno Nacional interpretado por Jessie Veeder-Scofield, se pidió a los veteranos del público que se pusieran en pie y recibieran un reconocimiento por su servicio en la protección del país y sus ciudadanos. A continuación se pasó a la parte de asuntos de negocios de la reunión, en la que se presentaron los aspectos más destacados de 2022 y la forma en que la cooperativa navegó por las diversas tormentas del año.
El tema de la 78ª Reunión Anual fue " Capear juntos la tormenta" y abarcó las diversas pruebas a las que nos enfrentamos a lo largo de 2022. Aunque las tormentas causadas por el tiempo son fáciles de reconocer, cuestiones como la adquisición de material, los retos relacionados con la inflación y la insuficiencia de recursos pueden convertirse rápidamente en sus propias tormentas. El Presidente de la Directiva, Clayton Monsen (Distrito 2B - Arnegard), compartió una actualización sobre cómo la cooperativa hizo frente a estas tormentas a una planificación a largo plazo y la adquisición de material con suficiente anticipación a los proyectos previstos.
El CEO de McKenzie Electric, Matt Hanson, siguió el informe de Monsen con más detalles sobre cómo la planificación previa y la capacidad de pivotar recursos aislaron a los miembros de cortes prolongados durante las tormentas. Empezando por la climatología, Hanson destacó dos importantes fenómenos invernales ocurridos en 2022: la tormenta de nieve de abril y las tres semanas de congelación y niebla de diciembre.
La tormenta de nieve de abril fue una de las peores condiciones climáticas invernales que la cooperativa ha observado en sus 78 años de operaciones. La lluvia helada, los fuertes vientos y la intensa nevada se convirtieron rápidamente en un problema debido al peso sobre las estructuras de la cooperativa y al empeoramiento del estado de las carreteras, que afectó la movilidad de los equipos de McKenzie Electric que se desplazaban a las zonas afectadas por los apagones. Afortunadamente, la cooperativa disponía de material para solucionar los cortes en poco tiempo. Desde esta tormenta, se han realizado avances significativos en la forma en que McKenzie Electric y su personal se preparan y responden a este tipo de apagones. Poco después de la tormenta de abril, se creó un portal de apagones para que los miembros estuvieran informados en tiempo real del restablecimiento de los apagones. Junto con la renovación de los procesos internos y la coordinación entre los equipos de carreteras del condado, el personal de emergencias y los proveedores de comunicaciones, la cooperativa estaba bien preparada para la tormenta de diciembre.
Siguiendo con el tema, Hanson profundizó en asuntos como los retos de la cadena de producción, la seguridad física y cibernética de las infraestructuras de la cooperativa y los problemas de suficiencia de recursos según los informes del Southwest Power Pool. Mirando al futuro de la cooperativa, Hanson presentó un proyecto en marcha en 2023 que incluye la adición de 100 megavatios de capacidad en la zona de la reserva india de Fort Berthold. Este proyecto incluirá tres nuevas subestaciones, aproximadamente 60 millas de línea de transmisión y la sustitución estratégica de conductores para aumentar la fiabilidad dentro de la zona del proyecto.
Para cerrar el informe del CEO, Hanson informó sobre el costo de electricidad y el reparto del dinero de los miembros de McKenzie Electric. Con casi 0.90 centavos de cada dólar destinado a los costos de energía, esta cifra ilustra cómo la cooperativa pone al miembro en primer lugar minimizando los costos siempre que sea posible sin comprometer la confiabilidad de su servicio. Tras el informe del CEO, Lance Rambousek con Brady, Martz y Asociados informó sobre la situación financiera de McKenzie Electric, que se mantuvo financieramente fuerte a lo largo de 2022.
Cada año se eligen tres directores para sus respectivos distritos. Travis Thompson (Distrito 1C - Keene), Clayton Monsen (Distrito 2B - Arnegard) y Ray Tescher (Distrito 3A - Trotters/Homesteaders Gap) fueron reelegidos sin oposición.
Como programa clave que utiliza la generosidad de los miembros de McKenzie Electric, el informe de Operation Round Up fue presentado por dos directoras del programa, Kim Neprash y Nikki Darrington. Desde la adopción de Operation Round Up por parte de los miembros de la cooperativa en 1998, se han distribuido más de 250.000 en nombre de los miembros a personas con gastos médicos de emergencia, asistencia a organizaciones cívicas y caritativas, mejoras de equipos para escuelas y parques, y equipos nuevos y necesarios para ambulancias y departamentos de rescate.
Para clausurar la reunión, se entregaron reconocimientos de servicio a los empleados de la cooperativa que alcanzaron logros en sus aniversarios laborales. Entre ellos se encontraban Lynette Hanson - 40 años; Colt Rangen - 15 años; Jim Hansen - 15 años; Zane Frick - 10 años; Dan Marmon - 5 años; y Justin Bentz - 5 años. Tras la entrega de los premios al servicio, se anunciaron los ganadores de las becas y los programas para estudiantes de 2023.
No se pierda la oportunidad de participar en el futuro de su cooperativa, McKenzie Electric exhorta a cada miembro a asistir a la próxima reunión anual. ¡Manténgase en sintonía para el anuncio de la fecha! Gracias a todos los miembros que asistieron, ¡esperamos verles el año que viene en nuestra 79ª Reunión Anual!
Entertainment - Jessie Veeder
Jessie Veeder has been a symbol of folk music in the badlands of Western North Dakota since she released her first original album, This Road when she was only sixteen years old. It was an effort that sparked the interest of music enthusiasts and took her from performing at fairs and festivals around her home state to managing a national college and coffeehouse tour and recording her fifth original album in Nashville in 2015.
With unique and interestingly beautiful vocals, Veeder's lyrics swell with references to her own life experiences growing up on a working cattle ranch in the rugged land of Western North Dakota. Veeder's ability to captivate audiences with stories of her love for the landscape, the culture and the people of small-town America is what pulls at the heartstrings of audiences across the globe and made her original music such a success.   
Attend the annual meeting to hear Jessie perform from 5:30 - 6:30! 
Free Meal - 4H Clubs
Local 4H clubs throughout our service area will be serving a full meal to annual meeting attendees. Pulled beef, cheesy hashbrowns, fruit and dessert will all be served cafeteria style immediately following registration.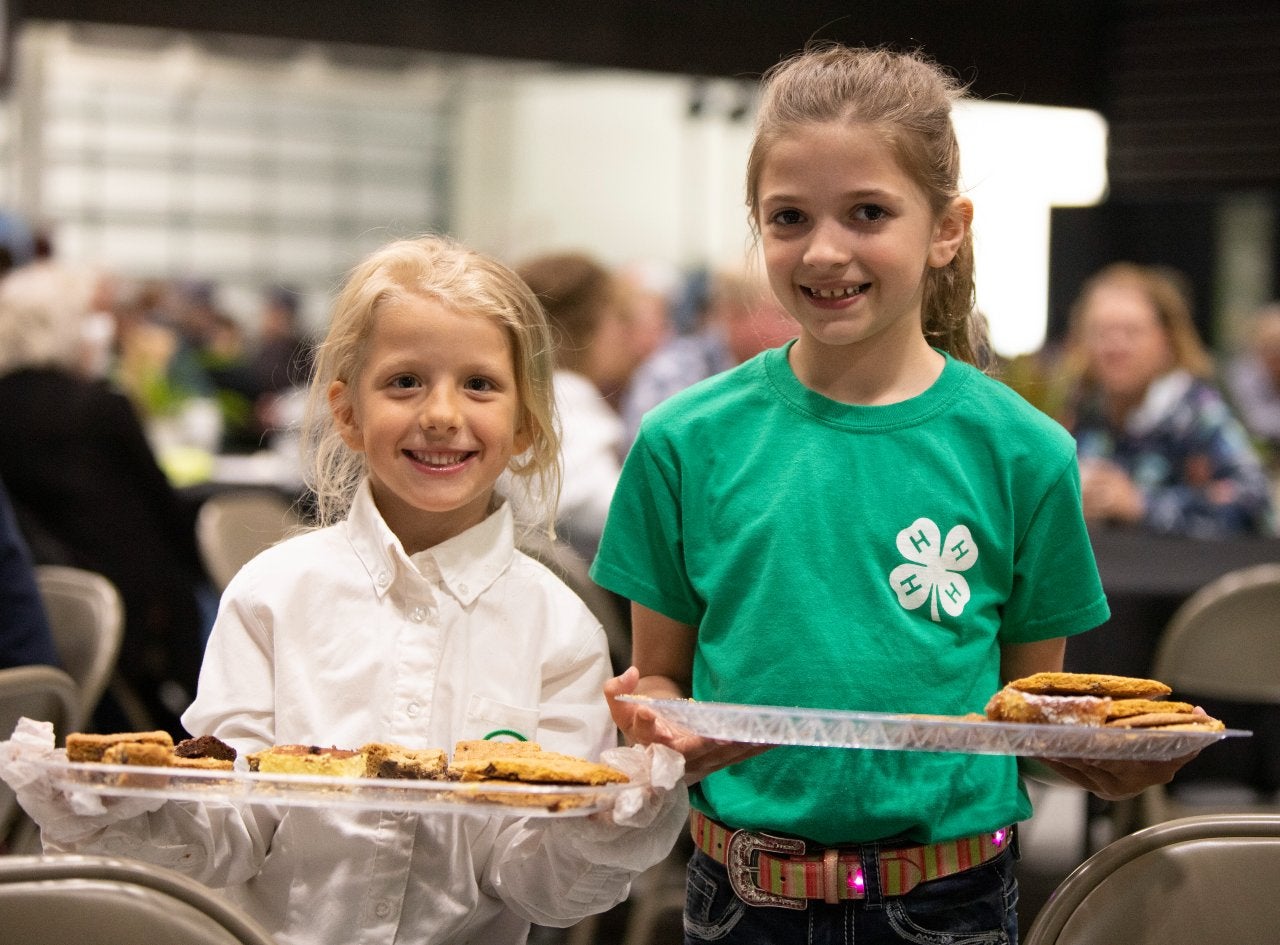 Location of Event
Rough Rider Center Arena
2209 Wolves Den Pkwy, Watford City, ND