Remembering the Past. Lighting the Future.
McKenzie Electric - Member Impact Film
76 years ago, community members gathered to fix an issue in rural McKenzie County, and surrounding counties, that could no longer go unnoticed. Electricity was in the area, but it was only available in towns where it was financially responsible for an Investor-Owned Utility (IOU) to be. Residents that lived outside of these areas- ranchers, farmers, and rural communities, were unable to receive power because the profit for IOUs just wasn't there. It wasn't until the early 1940s that those very residents took it upon themselves to create a power cooperative to electrify rural America and change the lives of farmers and ranchers forever.
In 1945, McKenzie Electric Cooperative's (MEC) articles of incorporation were filed, and shortly after, in 1947, the first switch was flipped sending power through co-op lines to the homes of rural residents. This marked the beginning of McKenzie Electric and its history of powering the lives of its members.
As we move toward the future and continue to provide safe, reliable power, we look back to the stories and memories of our members to memorialize the reason MEC was created. Featured in the member impact film, "Remembering the Past. Lighting the Future." two members who received power in 1951 share their stories of life before power and how MEC has impacted their lives.
Thank you, our members, for trusting us as we continue to provide a low-cost, reliable, and safe electric service. 
75/76 Annual Meeting Recap
full width paragraph
"Lighting the Prairie for 76 Years" 2020/21 Annual Meeting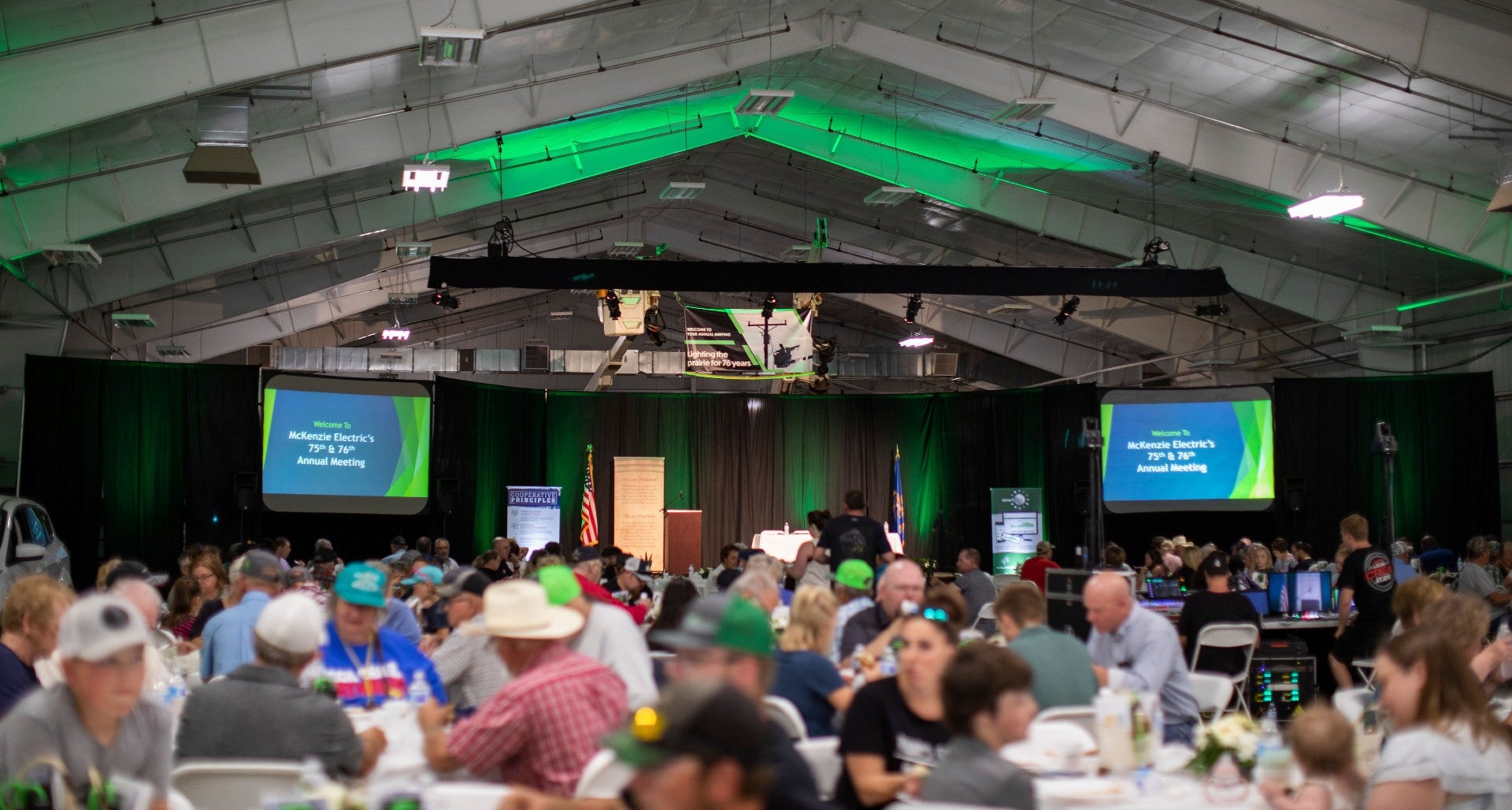 Annual Meeting Agenda
To protect our members, this annual meeting will be for members only. Added safety precautions have been implemented to keep areas clean and safe for attending members. No masks are required, however, if you're experiencing COVID symptoms please stay home and do your part in keeping your neighbors safe. 
The 76th annual meeting of McKenzie Electric Cooperative will be held Tuesday, June 8, 2021, at the McKenzie Electric headquarters, 3817 23rd Ave. N.E. in Watford City, with the following agenda:
Registration and complimentary meal    6:00 p.m.
Children's activity     6:30 p.m.
Business meeting     7:00 p.m.
(75th meeting and adjournment will take place first)
Invocation
Call to order
National Anthem
Appointment of parliamentarian
Approval of minutes
Report on bylaw changes    Dennis E. Johnson, attorney
Financial report by audit firm     Brady Martz & Assoc., P.C.
Board President's report     Clayton Monsen
Cooperative update     John Skurupey
Election of directors
Service awards presentation
Operation Round Up report
Scholarship awards
Old and new business
Adjournment
Drawing for door prizes